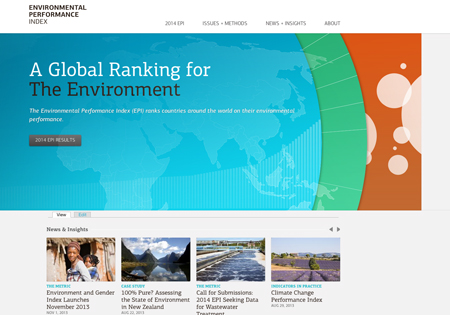 The 2014 Environmental Performance Index (EPI) is a joint project between the Yale Center for Environmental Law & Policy (YCELP) and the Center for International Earth Science Information Network (CIESIN) at Columbia University, in collaboration with the World Economic Forum and support from the Samuel Family Foundation and the McCall MacBain Foundation. The EPI is constructed through the calculation and aggregation of 20 indicators reflecting national-level environmental data. These indicators are combined into nine issue categories, each of which fit under one of two overarching objectives.
The two objectives that provide the overarching structure of the 2014 EPI are Environmental Health and Ecosystem Vitality. Environmental Health measures the protection of human health from environmental harm. Ecosystem Vitality measures ecosystem protection and resource management. These two objectives are further divided into nine issue categories that span high-priority environmental policy issues, including air quality, forests, fisheries, and climate and energy, among others. The 2014 EPI Framework includes 9 issues and 20 indicators. Access to Electricity is not included in the figure because it is not used to calculate country scores.
Switzerland leads the world in addressing environmental challenges, according to the 2014 Environmental Performance Index (EPI). Luxembourg, Australia, Singapore, and Czech Republic round out the top five positions of the Index, which ranks countries on high-priority environmental concerns including air quality, water management, and climate change.
While reinforcing the challenges nations face in promoting sustainable development, the 2014 EPI shows that top countries have relatively strong performance across the board and have advanced on a range of environmental issues over the last decade. But the scorecard reveals weaknesses for many countries and areas of concern for even the best performers. Switzerland, for example, is only average on forest protection, demonstrating that all countries – regardless of rank – can improve.
Country Rankings: See how all 178 countries rank on the 2014 EPI. Click on a country's name to go to its profile page and learn more about its performance.